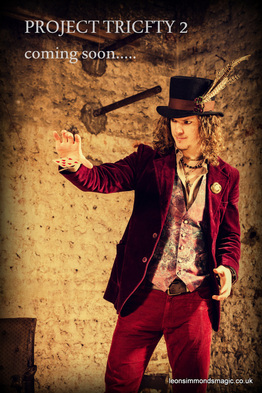 Ok so apart from a mildly confusing and tongue twisting hybrid mix of two words (Trick and fifty if you hadn't noticed- which is a clue in itself!) what exactly is Project Tricfty 2 I hear you ask/scream/wonder?!...

At it's most basic level, it is a personal challenge I have set myself- to learn a new trick every week for the next year. Fifty two tricks= Trickfty 2- get it?!?!
It has since been slightly modified as I realised that looking at my diary, and the time it takes to learn magic- it may be a little bit ambitious!

Nothing wrong with that though, although I don't like to fail- especially at my own challenges! So the new rule it that it doesn't have to be an entire routine- It can be a new move, a re-work of an old routine, something begged/borrowed/stolen OR something completely new...
---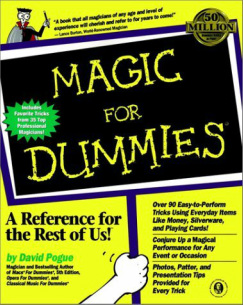 The main reason for this is not to rush and perform half ass-ed tricks but to keep my creative juices flowing- pushing myself to explore new and old ideas and make sure I'm still trying things out on a regular basis, as well as performing my usual stuff of course to mystify the muggles!

In some ways by always striving for my best performance and using the same routines for years- to learn them inside-out, upside-down and back-to-front in just about every situation possible.. I have forgotten that it is just as important to go back to my roots and try something new.. and remember that getting things wrong and experimenting isn't a bad thing! It helps you learn quicker and ultimately perform better.

I have already been experimenting and it has been working wonders so far- my creative juices are in full flow (sounds a bit gross?!) and I'm buzzzing with ideas for all things new, so very happy to report SO FAR SO GOOD!
---
I will be reporting my progress on the project with a blog each month, looking at what worked and didn't work, and (more importantly) why..

I will also be filming some of the routines so prepare to put your feet up, dim the lights, get some popcorn, take off your pants, or however else you like to watch stuff? and enjoy!...

So keep your eyes peeled (ouch!) for the first post next month!

In the words of the plastic-fantastic-spaceman-extrodinaire - Buzz Lightyear

"To infinity, AND BEYOND!"
---
in other news! my pink sequin dress............................................. and horses
Not something you would usually put together so allow me to explain!!..
I was recently booked to perform for 'Ladies day' at Plumpton Racecourse- "Plumpton's most glamourous day of the year"
I toyed with the idea of digging through my fancy dress cupboard and going for my rather fetching and not-hiding-anything-at-all pink sequinned dress.


Although I then remembered that I would actually like more bookings like that in the future, so opted for something a little less ridiculous! Ironically I even got put forward for best dressed man, but then promptly disqualified for being a performer- (not for not being a real man as some of you may assume) ;-)
It was a great day and a lot of fun so here are some photo's courtesy of

www.eventspapparazzi.co.uk - Also a lot of fun so be sure to check them out.