---
The iconic tag-line for the film- The Lost Boys reads: "Sleep all day, party all night, never grow old, never die" which is funny because it's currently 16:24 on a nice sunny Saturday afternoon and am I outside playing frisbee and attempting to absorb some well-needed vitamin D?!...... NO! But there is a good reason for this. I arrived home at 6 am after performing with Bind Pig for Carousel in London, not only a late one but the third gig of the week! So even if it means being a true lost-boy, (more blocking out the sunlight than drinking blood) and getting some well needed rest then that was what needed to happen.


But alas you don't need to know the ins and out of my sleeping patterns!.. but I do think it would be awesome to share some more info on the cabaret/circus/club nights I am currently involved with, as they are all absolutely incredible nights- hosting the very best performance artists Brighton has to offer- FACT!


Personal note- I am extremely honoured to work with all these talented troupes- who are blessed to not only be awesome performers, but also (and just as importantly?!) truly amazing people, and now also great friends. :-) So check them out:
---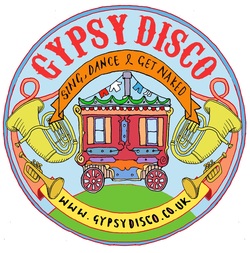 Who likes to sing? Who likes to dance? Who like to get naked??!...... EVERYONE!
Gypsy disco is truly a party like no other! From it's delightfully detailed decor to the lavish line-up which boasts almost every type of performer possible! Gypsy disco delivers a true 'festival in a club' experience with something new and exciting happening in every corner of the room! Prepare to dress up, get face painted,
covered
in glitter and have the very best night of your life, that you probably won't remember.
But don't just take my word for it, come on down!! See more info here:
http://gypsydisco.tumblr.com/
https://www.facebook.com/GypsyDisco?fref=ts
---
BLING PIG- A throwback to the prohibition era where underground drinking and illicit behavior is on the menu!

Featuring The very best pole, burlesque, boylesque, circus and of course magic, all set to a swinging Dj set to get those hips moving and shaking!

Blind Pig brings back the excitement and awe of a forgotten age with a modern twist. The nights are themed and have included an electro circus, a vintage Christmas, and a very sexy showcase- 'Naughty pig'. A truly talented troupe to make your jaws drop and all set in one of Brighton's most iconic and beautiful venues. Check out more info here:

https://www.facebook.com/BlindPigBrighton1920?fref=ts

And the next event which looks like the very best one yet- Blind Pig's 2nd Birthday- A mad hatter's tea party!

http://www.skiddle.com/whats-on/Brighton/Proud-Brighton-Ballroom/Blind-Pig-Mad-Hatters-Tea-Party/11902274/
---
And coming soon- SUGARKICKS!

"

Brighton performer Sugar Shane welcomes you to a brand new fun and sexy stage show bought to you by the most creative, quirky, sexy and entertaining performers Brighton has to offer. There will be outrageous, contemporary, seductive and sexy acts waiting to entertain you and DJ Arthur Shillin' will be raising the roof and daring you not to dance throughout the evening. Get Sugarkickin!!!"Like the page for more info here:https://www.facebook.com/Sugarkicking
And launch night details here:https://www.facebook.com/events/636487416378850/?fref=ts
---
Hope to see you all at one/all of these events soon, you will not regret it!..... Now where is that sunshine, I need my vitamin D!
leon x