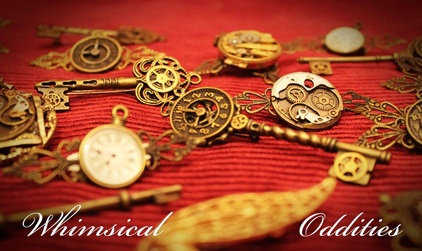 If you know me then you will probably know I have been interested in finding and adorning myself with all sorts of weird and wonderful things for years- from brooches to braces, jackets to jewellery and everything else in-between. This led to me starting to collect pieces of jewellery and eventually deciding to have a go at crafting my own.
---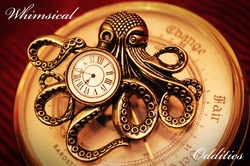 For a long time this was really just a hobby to satisfy my creativity and give me something unique and fancy to help catch people's eyes whilst performing, but then something happened; people started to ask where I got them and where they might be able to get one.... Whimsical Oddities was born! I decided to start selling my pieces and did a photo-shoot to help show them off, the results of that can be seen here:
https://www.facebook.com/pages/Whimsical-Oddities/1374643716119611?ref=hl
And below:
---
I'm very happy to say things started to pick up very quickly and there has been a lot on interest in my designs. I even got asked if I would like to be part of my first wedding fair by the creators of Quaint Queer Weird Weddings (QQW). They had a start-up initiative programme in which 5 creators would be picked for a half price entry and stall at the fair so I entered.... and WON!
You can see what I submitted here:
http://quaintqueerweird.com/start-up-initiative-entry-4-leon-simmonds/
And my own personal exhibitors page here:
http://quaintqueerweird.com/exhibitor-leon-simmonds/
Please take a moment to check out QQw's site as the put a lot of work into what looks like a truly wonderful wedding fair- bursting out of box and off-the-walls with amazing creations to help make your special day even more magical!
It's going to be a fantastic day and I'm already really excited to be a part of it so come on down and say hello!
This is the first of some awesome new adventures for 2014- the others are under wraps for now but I will be releasing them very soon! For now, head on over here and give me a like, a share if your feeling extra-specially amazing and of course get in contact if you see something you like!
https://www.facebook.com/pages/Whimsical-Oddities/1374643716119611?ref=hl
Keep it weird and wonderful..
---