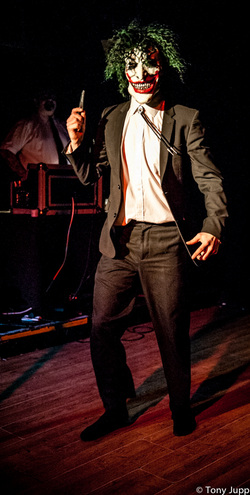 Is this?!?....

Well it is me, dressed as the joker, dressed at John Travolta's character in Pulp Fiction.... allow me to explain!
I had an extremely busy Halloween, performing with my double act- ExTrAnO!
Four shows, one photo-shoot, buckets of make-up, glitter, blood (sweat and tears!)

But we had an amazing time performing and an even better response from the crowds, so I'm very happy to be able to say it was well worth it!
We finished things off by performing in Sugarkicks Tarantino themed show, in which we decided to do a very special act (video below).

We are currently having a break until the New Year but will then be organising a very special evening which will be filmed so keep your eyes peeled in 2014!...
Until then, here's a look at some photos and videos of us in action!..
(Click the bottom right to open up bigger in a new page) See you again soon!

---
---
Photography by:
Infinityphotographic.co.uk
Tony Jupp
Arla Kayne