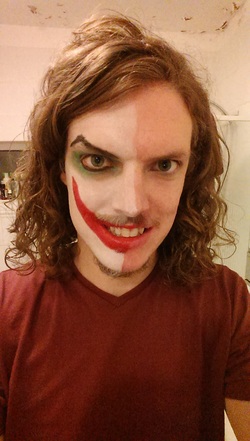 So after spending most of October and November dressed as either The Joker, Willy Wonka, a misfit, the Mad Hatter, my alter ego- Dr A. Narchy or the Joker-dressed-as- John-Travolta-in-Pulp-Fiction (see previous blog!) or just doing close up gigs, I realised it had been an awful long time since I had got up on stage and performed as (drum roll please) myself.
Two weeks later and I get asked to perform on stage for 'Charity Chuckle'- a Charity fundraising comedy night at the Komedia Brighton- with big names and everything!!!!
Now that is what I consider to be an almost text-book definition of the phrase- 'out of the frying pan and into the fire' so at first I was admittedly sort of... well... shitting myself a bit!
I was therefore somewhat relieved when my name was also thrown into the hat for a PWB (Performers Without Borders) Charity Fundraiser at The Brunswick, Hove, two weeks before. PHEW!- It meant that I could get the feel for being back on stage in my own shoes and try out some routines for the Komedia gig..

---
Whilst deliberating over material for my act, I suddenly had a warm realisation that not only was this my first time back on stage in a while but actually the very same stage that I ever performed magic on way back in 2008! It was for Mark Little's 'Raw Talent Rodeo' and after initially dying a horrible death, I somehow recovered, won my first heat and bagged myself a part in the show for Brighton's Fringe Festival the following year!
I'm very happy it went very well, as did my act at the PWB show in November.
As a special treat- here are two videos: A clip from my performance at the PWB show this year and my full act for the Raw Talent Rodeo.
It's quite interesting (albeit utterly self indulgent?!) to see the differences in the performances, and something I certainly look forward to seeing again in another five years!..
---
Performers Without

Borders

(PWB)

Charity fundraiser show.

The Brunswick, Hove

November 2013.

PWB is an interesting and

amazing charity, teaching

performance art to vunerable

children all over the world.

Please take a moment to check

them out here:

http://performerswithoutborders.org.uk/
| | |
| --- | --- |
| And here it is- Mark Little's Raw Talent Rodeo way back in 2008! | |
---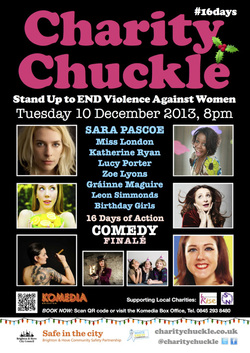 So as I type this it is 1 week before the Komedia gig and I'm feeling.........
GOOD!
It's an amazing opportunity to get myself out there and the line-up is looking incredible! Great exposure and all for some really amazing causes- so I can't wait to get back up there and show them all what I've got.
But none of these shows can be successful without an equally awesome crowd! So if your up for a night of quality entertainment all for a great cause then please follow the link to see more about the event, the charities it's raising funds for and/or to book tickets here:
http://charitychuckle.co.uk/
Many thanks for reading and I hope to see some of your fine faces (and even finer left eye-brows, bottom lips and nostrils) there!
Leon x