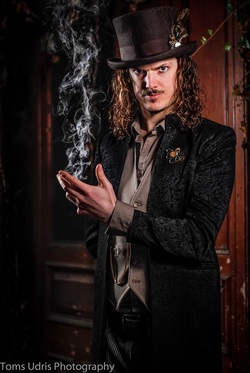 After a crazy-busy Christmas season I was very much looking forward to some catch-up time in January. Time to collect my thoughts, work on some new material and have some very neccerssary me-time... I couldn't have been more wrong!
I was asked to perform in not one, not two but four public shows in February which include- an all-male cabaret show, an album launch party, co-hosting the new Sugarkicks Burlesque show, a Victorian seance for Brighton Science Festival and finally the birth of my new regular magic night, Riddles in the dark.. aaaaaand breathe!

To promote and market all of that included numerous meetings, hours designing posters, updating my website, two video shoots and a total of five photo-shoots! I have never been so aware of my own face, I have no idea how models do it! All the hard work is definitely paying off though which is great, here's a look at some of the things I got up to and more information about all of the shows in February.

---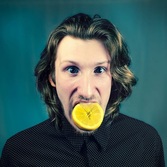 I had the pleasure to work with Toms Udris Photography for a few of the projects. Toms work is consistently awesome- see for yourself here:
https://www.facebook.com/TomsUdrisPhotography?fref=ts
He did a great set of head-shots for me, and promotional photos for Riddles in the Dark as well as an ongoing photography project for my double act- ExTrAñO! You can see the full sets in the 'Media' section on my site as well as the Riddles In The Dark page (Under the about tab).
---
showtime! Details of up-coming shows in february
---

Sugarkicks is back with a vengeance this Valentines Day to find out who is the ultimate champion in the Battle Of The Sexes, who ever said romance is dead?! It's going to be an awesome show, and I'm really looking forward to co-hosting with Sugarkicks creator and burlesque-brawler- Sugar Shane. Full details, line-up and tickets here:
https://www.facebook.com/events/1374382429493880/?fref=ts


---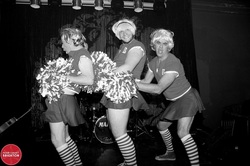 Der Wunderlich Revue's- 'Valentines Balls'.
This one is going to be a lot of fun!
An all-male cabaret, boylesque bonanza of stripping, dancing, magic, circus and men cheerleading. Performers include Adriano Fettucini, Mick Wunderlich, the Size Zero Albino, the Team Mud Cheerleader and yours truly.
Tickets: http://www.wegottickets.com/event/257407
---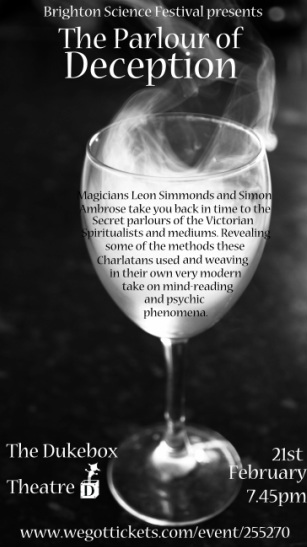 The Parlour of Deception.
Magicians Leon Simmonds and Simon Ambrose take you back in time to the secret parlours of the Victorian spiritualists and mediums. Revealing some of the methods these charlatans used and weaving in their own very modern take on mind-reading and psychic phenomena, the show is guaranteed to be as thought-provoking as it is astonishing

As part of Brighton Science Festival I'll be teaming up with my regular co-magician Simon Ambrose to perform some of the cheats and scams used by the Victorian mediums and spiritualists, along with some modern takes on their trickery.

The show is taking place at the Dukebox Theatre in Brighton on Friday 21st of Feb 2014. Doors open at 7.45 for an 8pm start

There are only 30 tickets available so the show is likely to sell out fast (the 2012 show had over 60 people attending) and can be purchase here for the princely sum of £5 + 50p booking fee



Tickets and info below:
http://www.brightonscience.com/2014/events/the-parlour-of-deception/
http://www.mwym.co.uk/
http://www.wegottickets.com/thedukeboxtheatre

---
And finally, my new regular magic night- Riddles In The Dark!

This a really exciting new project with David Stewart, aiming to bring Close-up magic and mind-reading to your table at some of Brighton's best pubs, bars and venues.

As well as the regular nights we will also be doing some special one such as 'The Sorceror's Speakeasy'. These nights will aim to include, drinks promos, competitions with prizes and of course some genuinally mind-melting magic! Full details can been seen on our dedicated page on this very site:
http://leonsimmondsmagic.co.uk/riddles-in-the-dark.html
As well as the blog here:
http://leonsimmondsmagic.co.uk/riddles-in-the-dark-blog.html
We look forward to seeing you soon!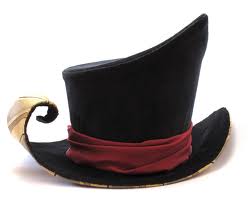 leon
x