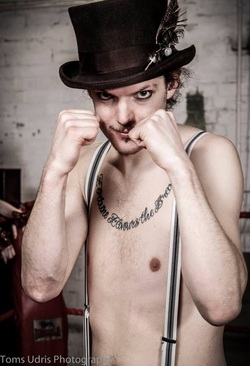 Or maybe not!!! Now that the dust has finally settled on 2014 I was looking forward to some time to re-gain my thoughts, have a breather and maybe even detox a bit.... BUT NO!

2015 Apparently has other ideas and has already given me a slap in the face by fixing me up with not one, not two but four public performances coming up in the next few weeks! So it's straight back to it with meetings, rehearsals and planning for what's to come.
With a little preparation, i'm ready to fight back..... 2015- I'm coming for you!
DING DING DING!

As well as all of that going on, it is with great displeasure (and downright jealousy) that I said goodbye to my Riddles In The Dark co-creator and general partner in crime- David Stewart. He has decided that actually England can be a bit shit sometimes so has gone to try his hand on the sunny beaches of Australia, can't say I blame him- Good luck David, we will miss you!
---
We made sure we finished our RITD run of shows for 2014 with our best show to date so-far- A Kristmas Karol!

It was a truly awesome show and we had a amazing turn out of freaks and fiends that all got right into the spirit of things (geddit?!) and helped us merrily kiss goodbye to the year and kick of the festive season in true Karnival of Magick style.

All our performers were absolutely incredible as always- here's a sneaky peak of some of the highlights for those who missed out!....

Photography by Toms Udris
---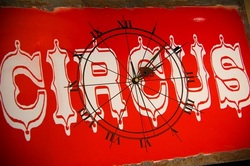 So what happens to Riddles In The Dark I hear you weep and shout?!.... Well have no fear- the answer quite literally came to me in a dream, which I have spent the last few weeks working towards making a reality and i'm very, VERY excited about it! Details are still under wraps at the moment but I can tell you we have a brand new venue, brand new performers and a brand new show... and it's going to fucking ROCK! Watch these spaces for more info very soon!
Twitter
-
Facebook
---
!!upcoming shows!!
---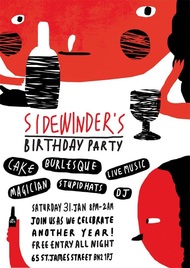 The SideWinder Birthday party!!


Saturday 31st January
8pm-2am
65 St James Street
Free Entry all night


As well as Silly hats, cake, live music and Burlesque, I will bringing my whimsical wizardry to the party so come say hello!
---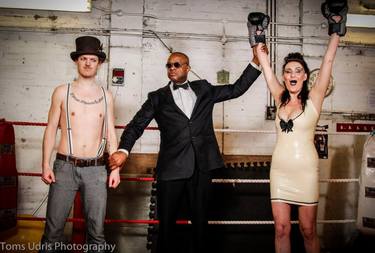 Sugarkicks- Battle of the Sexes- The Re-match!!!
I had a great time last year, co-hosting as my viking warrior character 'VELHUNG'. After many performances, games and down right bribes the night was (arguably) won by the ladies so it's time to take the power back!
I have some new characters and plenty of tricks up my (wizards) sleeve to help lead us to victory so come and join in the battle! It's also a brand new venue which I'm looking forward to working in so come check it out, after all- whoever said romance was dead?!
Full info and ticket link
here
.
---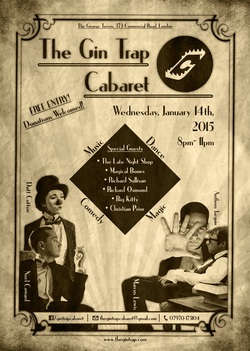 The Gin Trap Cabaret

A brand new monthly Cabaret show in London- organised my good friends at the Head Hacking Crew.

The show features established performers, street performers, musicians and other surprises! A full evening of entertainment for... however much you like! Yes that's right, entry is free all night all they ask is for donations.

It looks like I will now be performing on the 18th March so keep and eye out on my Twitter and Facebook pages for upcoming info.
(Links at top of site)



---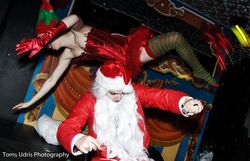 I will also be teaming up once more with the absolutely incredible Crystal King for a very special performance on Valentines day.

At The Riddles In The Dark Christmas show our 'Happy Elf/Bad Santa' act went down and absolute storm and we are looking to push it even further this time with our take on everyone's favourite plastic-fantastics... Barbie and Ken!

Show/ticket details will be announced shortly- it definitely won't be one to miss!
---
So that is about all from me for now, time to look 2015 right in the eyes and say "I'm ready for you.... BRING IT ON!"
leon x