It might sound like the start of an epic fantasy novel, but I'm very happy to say it is purely an accurate description of my life in the last month or so, allow me to explain....
The first weekend of April saw
Sugarkicks
return to the Rialto Theatre for the 'At the Movies' Show. I was incredibly excited for this one as some time ago I was asked to perform at a children's party as Gandalf.
Almost as soon as I got the outfit, I realised there was a whole other act in there that I wanted to take to the stage- absolutely NOT suitable for children! After some thinking and planning I pulled it off and managed give people a Gandalf they have definitely never seen before.. Less middle earth, more maximum girth, with a generous helping of sex drugs and rock and roll! A WIZARD SHOULD YOU KNOW BETTER!
The performance was filmed and may well make an appearance (ba-dum-chhh!) at some point but until then, here are some awesome photos of Gandalf in action. Photography by
John Fox Photos
and
Toms Udris Photography.
---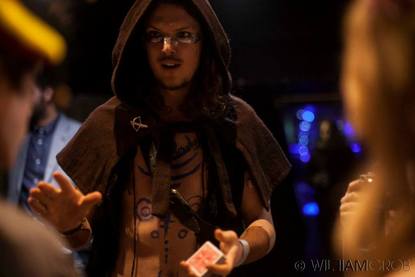 Next up was
Gypsy Disco
's medieval Inspired 'Feast of Fools'.
As as big fan of all things Medieval I was really excited about this one
and it definitely didn't disappoint!
Check out the video below.
---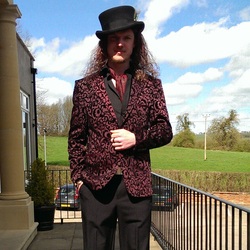 Then it was a trip down to Shrewsbury for the Wedding of Elaine and Charlie. It was an amazing weekend as I was performing as well as being a guest so I actually got to stick around and enjoy the shenanigans for once!

Photos on the way soon but here's a quick look at my new snazzy jacket which was purchased specially for the occasion (and been worn almost religiously since).

Congratulations to you both and thanks so much for having me there, it was an honour. xxx
---
After three months of planning, it was finally time for the
Riddles in the Dark
crew to unleash all hell upon earth with our rock and roll cabaret show- 'Satan's Circus'.
After popping along to the Juice FM studios for an interview with Boogaloo Stu, we completely
sold out
the day before!! After a few last minute changes to the bill, we opened up the doors of our big-top of dark delights and put on one of the best shows I have ever had the pleasure to be a part of!
It was amazing to see so many people getting dressed up , drawn on and rocking out! All the performers, DJ and crew absolutely smashed it, I couldn't have hoped for it to go any better.
We have a video on the way shortly but for now, here's a look at some of the highlights, Phototography by Toms Udris Photography .
Like our Riddles in the Dark page
here
or follow us on
Twitter
to keep up to date with what's next up our sleeves...
---
As you can see it was certainly one hell of a month (pun absolutely intended!) With festival season just around the corner it's not set to slow down any time soon. I am pleased to say I am already confirmed to perform at Small World , Secret Garden Party, Give, Wildnerness and Shambala. Can't wait to get back in a field, covered in glitter and start spreading the magical luuuuurve ..

I'm still looking to get involved with more festivals too so I recently chopped together a new showreel for 2015. It focuses on what I think performing magic is all about: connecting with people, creating a moment of mystery and ultimately making people laugh and smile, life's too short not too!

Check out the video (make sure to switch it to HD) and if your feeling extra specially sexy then give it a share for me across your preferred social media and I'll promise to send some pixie dust your way ;-)
That's all for now folks, thanks for reading if you got this far! My next blog will be less of a diary entry , more something to really wrap your brains around and hopefully engage with so watch out for that soon. As always you can follow me across social media here:
Facebook
|
Twitter
|
Instagram
Thanks, glittery magical love to you all x