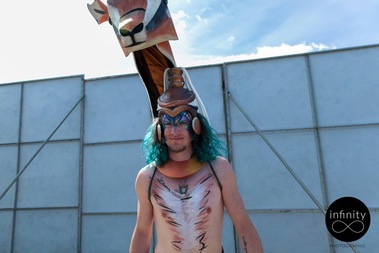 After a short break, I'm back to blog myself senseless for your reading and viewing pleasure- you lucky people you!

It's been a mad couple of months in Wonderland and I've been performing at a great mix of all my favourite types of shows- private parties, cabaret, weddings, my Riddles in the Dark events and finally (especially as the sun has put his hat on) Festivals!

It's also been a mixed media affair with appearances on Juice FM, a promo video for new events company- Discerning Events and even a brief appearance on Channel 4 !!
Here's how it all went down...
---
Festival Season has landed!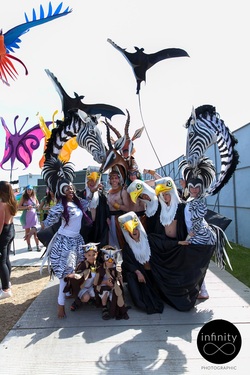 Just like the great British summer, festival season has finally started heating up, kicking off with one of my favourites-
Small World Festival
in Kent.
I was asked by the awesome
Castle stage
to provide a few acts for a late night cabaret show each night, it turned out to be very late- with the show kicking off at 2am each night! I took along my seasoned RITD performers Jack Kristiansen and Sirona Thorneycroft and I'm glad to say we smashed it each night and had an amazing time at the festival. Big thanks to the Castle stage and Small World Festival for having us- see you next year!
Then it was on to
Wildlife Festival
at Brighton city airport, aka- Shoreham, (where little baby Leon was brought into this crazy world! )
I was contacted by
Mad Ferret
who I had a great time performing with last year at
Kendal Calling
and
Unknown
in Croatia, to put a team together and help add some extra magic to the proceedings, so I was more than happy to oblige!
I delved into our Riddles in the Dark collective and put together a mighty crew of performers, face painters and our awesome photographer-
Infinity Photograhic
. We were all set and ready to let the wild rumpus begin!
We had an absolutely amazing time at the festival, the outfits we were given were incredible and it was ridiculous fun getting painted up and into character, before being unleashed upon the unsuspecting crowds.
We were even filmed and made a brief appearance on Channel 4 as part of their documentary featuring the festival!
Huge thanks to Mad Ferret and Wildlife for getting us involved- here's a little look at our adventure via Infinity Photographic's epic snaps, plus a behind-the scenes- video by Coco Deville.
---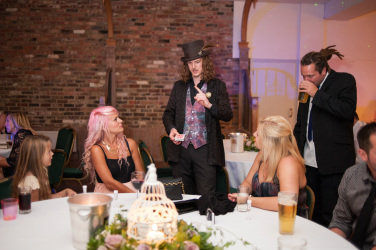 It's been a busy couple of months for private events too, and a good mix of birthday parties, weddings and a big Expo event at Portsmouth University.

Of all the private events I do, I think it's definitely weddings that I enjoy the most. Everyone is there to have a good time, you get a great mix of people of all ages and backgrounds and it's an incredibly special day to be involved in, so it's always an honour. Here's some feedback from my most recent client...
"Leon I just wanted to say a big thanks for your time and effort that you put into entertaining our guests on Saturday. You were spoken about all evening after you left, you are truly an amazing man.
Thank you again, Sam and Sharon" Yew Lodge, East Grinstead July 2015.
---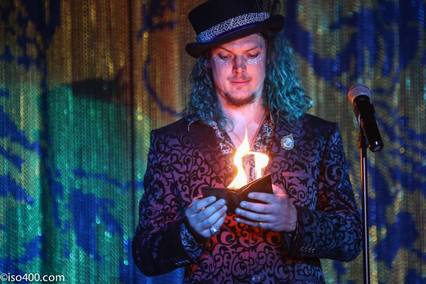 COMPETITION TIME!

After spotting a poster online, I decided to enter the 'Mr and Mrs Proud' competition for Proud Cabaret in Brighton. The prize was a years performing contract and a magazine feature- plus a pampering package (the main reason for entering of course!) so it was all to play for.
I decided to try something new in the qualifying round and after a moment of panic, the routine worked out fine and I sailed through to the final....
---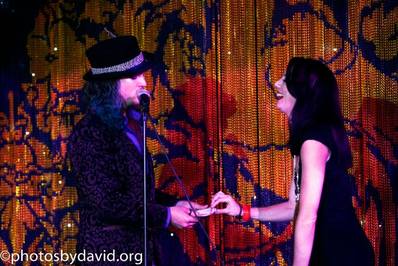 After not doing a very good job of learning my lesson in round one, I decided to try another brand new routine for the final! I worked it in with some of my usual material and I have to say I was pretty scared BUT all's well that ends well- once again it paid off, I'm happy to say I smashed both my performances and had a great time performing with everyone. Alas I didn't win the prize but it was very deservedly won by
Cherry Liquor
and
Lilian Lake
who were both absolutely amazing!
Same time next year!!! ;-)
---
Still here?!?! Good, I have one more thing to show you!...

I was recently asked to join new events company- Discerning Events to help add some magic to their events . To help spread the word I was also asked to get involved in the promo video, so one sunny afternoon in a warehouse in Hove we managed to shoot this , enjoy ;-)
---
Thanks for reading, there was a lot to catch up on and you've done very well- gold star! I'm just about to launch into a big run of festivals and will be taking my camera along with me for the ride so expect updates to follow!

For anyone that might be there, I will be performing at Lubstock , Secret Garden Party, Bimble Bandada, Wilderness, Shambala and Bestival- come and find me for glittery magical mischief!

See you in a field!
Leon x