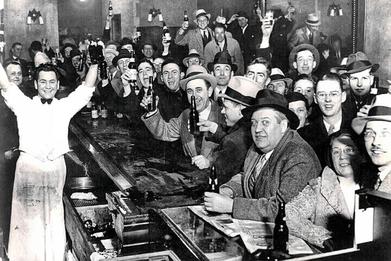 It has been just over a year since we started off our Riddles In The Dark events, specifically with our monthly night: The Sorcerer's Speakeasy.
We had some amazing nights and enjoyed our time at The Wick inn in Hove- a huge thanks to everyone that came down, dressed up and solved riddles! We hope you enjoyed it as much as we did!

So it is with great pleasure to say we are re-launching the event at a new awesome venue- The Quadrant pub. Before I tell you all the info, here's a little look back at some of the highlights and a taster of what to expect....
---
We will re-launching our night with a glitzy party at our new venue- upstairs at the
Quadrant
pub, right in the heart of Brighton.
As always it's dress-to-impress, so we want to see you all togged to the bricks as Hotsy-totsy Dappers, Flappers, Gangsters and Molls! PRIZES FOR BEST DRESSED!
Arrive from 8.30pm and get yourself some giggle water at the grade 2 listed bar, then get settled into your tables upstairs so we can start performing our unique style of prohibition-prestidigitati
on at 9pm.....Try saying that after a few jars of moonshine!
**Table magic by Brighton'
s own Whimsical- Wizard, Leon Simmonds- Award Winning Close Up Magician and Entertainer
**Solves our riddles and win even more prizes!**
**Try your hand at Blackjack and see if you can beat our charismatic croupier, Mr Jack Kristiansen**
**Watch out for a pop up Burlesque performance from Sirona Thorneycroft**
**Sit back and enjoy old flicks on our movie projector**

All set to the swinging sounds of the 20s-50s

We assure you the magic with be hitting on all sixes, so prepare to say so-long to your senses as you get sent back in time to indulge yourselves in illicit entertainment, at Brighton's best kept secret.... (until now!).

The event is pay-what-you-like so whether you're flat broke or a high-rolling-hustler, you are more than welcome to come and join in the fun... Suggested donation £2-£5

Every third Thursday of the Month upstairs at the Quadrant pub Brighton.
Facebook event https://www.facebook.com/events/674141652711293/
Or tweet about it! #Sorcererspeakeasy
See