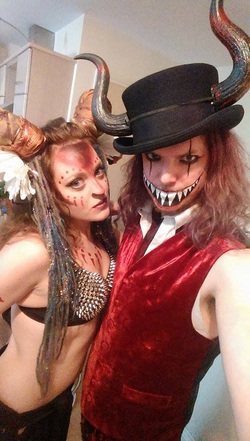 Ladies and gentlefolk, freaks and fiends, dreamers and believers, something truly wicked this way comes!
As it's Easter bank holiday weekend and now only two weeks until Satan's Circus rolls into town, we thought it was only fair to give you our own style of sweet treat- a taste of what to expect in our big top of dark delights!...
We welcomed visionary photographer and general bad-ass, Goat of
Goat Noise Photography
to join some of our freaky-family for a shoot at the JackaNarium.
This a sneaky look behind the scenes and finally a preview shot of the finished product, featuring one of our all time favourite performers-
Sirona Thorneycroft
.
Follow our social media pages here to see the final set as soon as it is released!
Facebook
|
Twitter
|
Instagram- @RITDmagic
There are still a handful of advance 'Inner Circle' tickets available for £8 , or £10 Standard. Full line up and link here.
---
---
As you can clearly see, the guy is a genius! So now go check out more of his work and find out what he can do for your photographic dreams here:
Facebook
|
Website
As for us, we will be sharing the full set very shortly and then opening our doors on the 17th. We look forward to seeing you fiendish freaks there...
#Satanscircusbrighton #Whatwouldsatando