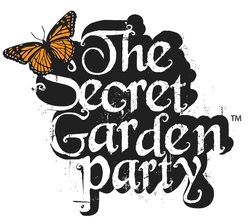 The sun is shining, the weather is sweet, makes you want to move your dancing feet!
Okay that is absolutely NOT the case right now! It's January, it's cold and wet, we're all skint and it sucks- but that won't last forever and the way the weeks are already flying by, it will be here before you know it! I for one am already looking forward to getting caked in mud, covered in glitter and generously filled with alcohol!- So it's time for relentless applications to festivals up and down the country to try and stamp out a spot for some whimsical wizardry!
Today I had the first one confirmed, performing once more with the Head-Hacking Crew, at Secret Garden Party! YESSSSSSSSS!

---
Romance isn't dead after all!..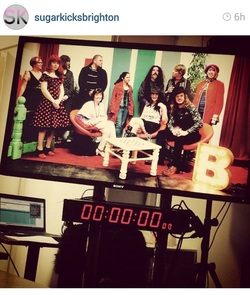 As part of the marketing trail for the upcoming Sugarkicks Valentines special- 'The Battle of the Sexes- the RE-MATCH!'
I was asked to join the crew to be interviewed for local TV station- Latest TV Brighton.
It was quite the set up and in full Sugarkicks style it was sexy, chaotic and a whole lot of fun- partly due to the host of the show Lynn Ruth Miller who was a.m.a.z.i.n.g in every way!
She fell in love with the Sugarkicks concept and joined in the fun with countless raunchy anecdotes and not-so-family-friendly comments... We love you Lynn!
Check her out here:
www.lynnruthmiller.com
The interview will go out on Friday 6th February at 7pm so you can hear about the Valentines show, see a live performance and watch Sugar Shane try not to swear!
---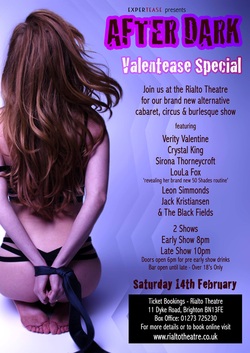 I'm lucky to be performing at not one, but two Valentines shows this year and I'm really looking forward to both!
As well as co-hosting the Sugarkicks show (above) I will also be collaborating with Proud Cabaret's- Miss Cabaret 2014, the sensationally seductive Crystal King.
We gave everyone a special Christmas treat for the Riddles In the Dark show- 'A Kristmas Karol' in which we gave everyone a Santa you've never seen before, an elf you wouldn't want near your children and let's a just say a happy-ever-after ending...
(more like a happy ending!)
We've cooked up something special again for all you lovers out there and can't wait to take it to the BRAND NEW stage at the Rialto Theatre in Brighton.
Full line up, show details and tickets
here
See you lovers there!
---
So as an extra treat for making it this far, I'll finish this blog with a look back at part of my Stage act at The Marlborough Theatre last year. I was asked to perform for a spooky Victorian story-telling evening which was really good fun and the perfect place to unleash my own spooky (and absolutely genuine) origin story.... More videos on the way too, but for now- enjoy!
Leon x