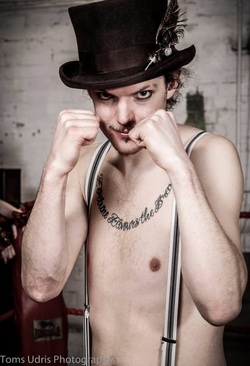 Poetry is difficult, BACON!

What better thing to do to prove romance is still alive and well then embrace the differences in our genders, get in the ring and BATTLE!
This February I was lucky enough (in love?) to be booked to perform in not one, not two but three special Valentines shows .

First up I was quite literally battling the other sex as I stepped up for Sugarkicks 'Battle of the Sexes- The Rematch!'.
I was co-hosting/putting down the passable Sugar Shane and her carefully selected shield maidens, with my own army of warriors, AND WE WON! All due to the final round being a drag-off none-the-less, photos below!

Then it was back to the Rialto theatre for two sold out back-to-back shows for Crystal King's new Expertease- 'After Dark' events. It was an amazing line-up with plenty of variety and even a rocking house band- The Black Fields. We put on one hell of a show for all those lovers out there so if you came along and got lucky as a result... you owe us one! ;-)



---
Sugarkicks 'Battle of the Sexes' The re-match
---
Expertease 'After Dark' Valentines Special
---
There will be videos from both shows following shortly so keep and eye out....

But for now (and quite possibly forever)

THE BOYS REIGN SUPREME!


Thanks to the Sugarkicks and Expertease crew , it's an honour as always to take part in such amazing events and put on such awesome shows!

Thanks to everyone that came down and supported us too, we hope you enjoyed it as much as we did!
Leon x