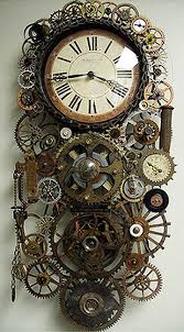 It's what everyone always says and for the most part it is absolutely true, especially when you are doing what you love.

Lucky for me then that doing what I love just happens to be my job and therefore having fun makes up a very large percentage of it. I have been a very busy bee of late and therefore much fun has ensued. So there it is, I am a very busy and fun-loving magical bee at the moment. (Happy Dance, or BZZZZZZZ)

There would be far too much (BZZZING) to report without sounding too me, me, me (arguably sometimes the point of a blog but SHHHHHHH!) so I will summarise some of the highlights before glancing towards what other fun and festivities are coming up in the not-too distant future. My recent adventures have included.....
---
performing on stage once more
| | |
| --- | --- |
| This included firstly dressing up and becoming the Viking- VELHUNG for Sugarkicks 'Battle of the Sexes'. It was a great laugh and an epic battle but finally the girls were announced the victors (RIGGED!) Some suitably hilarious photos- see below! | Then it was onto Der Wunderlich Revue presents: 'Valentines Balls'- an all-male cabaret show. Again an amazing night, awesome (and absolutely hilarious) performers, great crowd and my routines went down a storm. Videos to follow. |
This was rounded off nicely by 'The Parlour of Deception'- my Victorian seance style show with one of my Smoke and Mirros compadres, Simon Ambrose. It was like nothing I have ever done before, playing the part of a psychic medium and performing routines to suit. We sold out (and-then-some) which was a good sign and thankfully the show was very well received and we got some great feedback. (and probably gave a couple of peoples nightmares... hopefully anyway!). Here are a few more photos from the shows:
---
riddles in the dark comes to light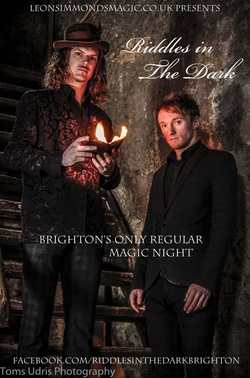 Brighton, what an awesome and magical place... or is it?!

Although Brighton has plenty to offer for every taste imaginable from art and music, to food and dancing, (lot's and lot's of dancing!) there seemed to be a distinct lack of magic as live entertainment, on a regular basis. So after teaming up with mid-reading maestro David Stewart, we decided to change all that and bring magic back to the masses by organising regular shows.

But these are so much more than your standard 'magic shows', we vowed to create themes and make our events as interactive as possible so people can get dressed up, escape the burdens of the working week, grab their friends and come and have a bit of fun. We created two main events:
The sorcerer's speakeasy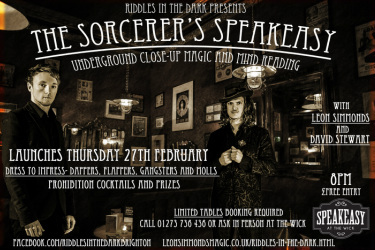 We take you back to the prohibition era and into Brighton's best secret Speakeasy venue... With delicious cocktails and great music- people can reserve a private booth and kick back as we perform close up magic and mind-reading at the tables. There is also the chance to win prizes by solving our Riddles on the night.
This has proved to be a huge success so far and we are just about to launch the date for our 4th show, so keep your eyes peeled then fix up, look sharp and prepare to welcome in the weekend in style.
More information on our home page
here
You can also find us on Facebook
here
The karnival of magick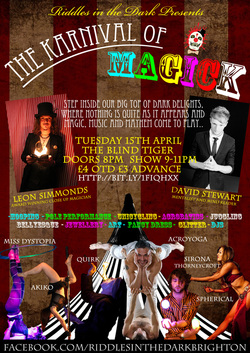 Ever wanted to run away from it all and join the Circus? here is your chance to let your darkest desires to come to life as through a misty haze, our shadowy big top slowly reveals itself. Step closer and allow your mind, body and soul to be drawn inside where nothing is quite as it appears and magic, music and mayhem come to play.....
Our big circus spectacular, this show featured us performing close up magic and mind reading as well as circus acts on stage, art and craft stalls, face- painting and challenges. The launch party was a massive success with a great turnout (especially for a Tuesday night!) and awesome feedback so we are still buzzing and can't wait for the next one- details to be announced as soon ass we have a confirmed date.
Until then you can keep updated
here
and check out the photos from the first one below. Thanks to the always amazing Toms Udris Photography for taking them. Give him some Facebook loving
here
.
---
Until then you can see me paying homage to the late-and-absolutely-great Harry Houdini at Saints of the Lot's first regular night at Proud Cabaret on May 23rd.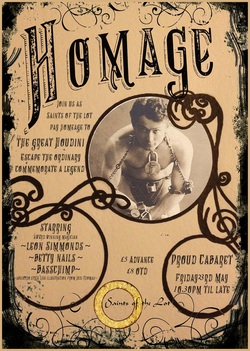 Homage is
Saints of the Lot
's new monthly night at
Proud Cabaret Brighton
starting My 23rd. Each one will pay Homage to a different symbolic figure.
This time paying Homage to Houdini, the great magician and escape artist who died in 1926.
As always, Saints of the Lot will be offering something a little different to Brighton's regular club nights.
~Homage to Houdini featuring~
Leon Simmonds - Award winning magician
Betty Nails- Neo burlesque
Judi Thomas Art
- Creating live absinthe/burlesque style illustrations and UV tattoos.
Brighton LindyHoppers female dance troupe 'Pennies
Pennies from Heaven
Quirk- Unicyclist, juggler and fire performer
DJ
Basschimp
bringing the best of electro swing and popular music all night!
Dress Code: Not Compulsory. 1920s attire, magicians and their assistants, straight jackets, circus gear (whatever you wish) The more the merrier
The first 50 people to arrive will receive goody bags on arrival with EPs from your favourite local bands.
Tickets: £5 in advance and before midnight
£8 after midnight
leon x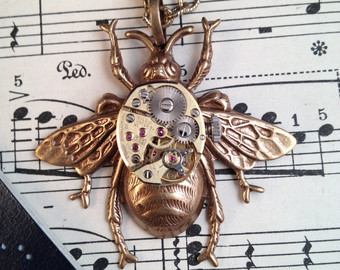 ---