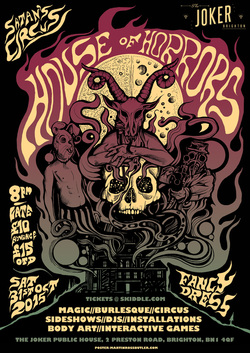 With the evenings beginning to draw in and the temperature starting to drop, it can only mean one thing- CHRISTMAS is on the way!!
Now before you start moaning, I don't mean Christmas in December, I mean the one at the end of October of course- Brighton Christmas, a.k.a- HALLOWEEN!!
Riddles in the Dark
have been extremely busy behind the scenes, working on our biggest and most bad-ass project to date and we can't wait to invite you along!!!
There's a bit more information on that below, but firstly it's been a while, so a little catch up may be in order!...
---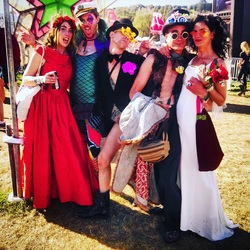 FESTIVAL ADVENTURETIME DRAWS TO AN END!

It's been one hell of a magical adventure in the festival fields this Summer! I ended up doing Smallworld, Wildlife, Lubstock, Secret Garden Party, Bimble, Shambala and Bestival!!

I had the best times, taking my glittery-magical-mischief on the road, making new friends, frolicing with old ones and even finding love , all together now- awwwwwww!

Thanks to everyone for the adventures , we've already been working on plans for next year so stay tuned- it's going to be BIG!

Here's to a true Summer of Love, one I'll definitely never forget!
---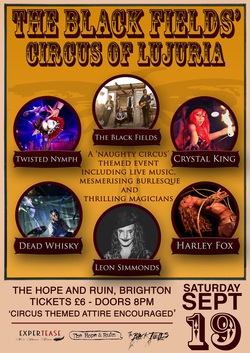 GIGIDDY GIGGIDY!
So in-between the sparkly madness, I have been gigging myself senseless with everything from a Pirate performance for
Kraken Rum
, to 50th Anniversary parties for
Age UK
, an EP launch party for
The Black Fields
- and even more in-between!
Age UK seemed particularly impressed and gave me the following feedback-
"With his engaging and professional manner Leon was the perfect magician to welcome guests to our 50th Anniversary party! He wowed guests of all ages with his showcase of table magic tricks that were truly incredible! We have had lots of positive feedback and feel that Leon's charisma and talent made it a very special evening."
Lauren Pridmore |
Advocacy Assistant |
Age UK
Loads more coming up too so follow me on Twitter
@LeonSimmonds
on on my
Facebook page
to keep updated.
---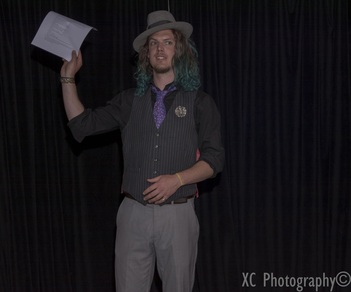 THE SORCERER'S SPEAKEASY SUCCESS!!
Things are really heating up for
Riddles in the Dark
- with our big Halloween show just around the corner and the Sorcerer's Speakeasy getting more successful than ever!! We have seen loads of new faces, amazing outfits and have had some of our best acts yet!
Thanks to another spot on
Juice Fm
with
Stu Boogaloo
- last nights Speakeasy was another huge success and quite possibly our best one yet!
We had the sensationally soulful and sassy
Esme
as our guest performer who went down a treat! Check out her
Facebook page here
and check out one of her original songs in the audio link below.
Also keep up to date on our Riddles in the Dark antics and events on twitter
@RITDmagic
and our
Facebook page
here.
---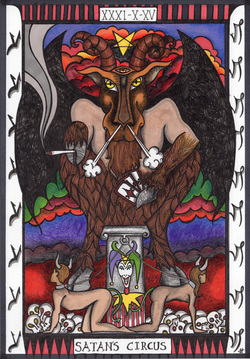 THIS IS HALLOWEEN!!!!
As mentioned before we are EXTREMELY excited to unleash our plans for Brighton-Christmas this year!!!...
Ladies and Gentlemen, freaks and fiends, dreamers and believers- prepare to face your biggest fears as we open up our big top of dark-delights and welcome to to..
Satan's Circus- House of Horrors
In true House of Horrors style, we have stripped apart the traditional cabaret show format and created a full interactive and immersive experience , with something to see, play with and even taste in every corner!
We have full reign over both floor of The Joker Brighton and we can honestly say this is going to best the very best party in town!
Tickets
are already selling fast so check out the details and grab them while you still can
here
.
Also keep up to date with sneaky pre-views, competitions and giveaways on the
Facebook event page
.
That's about all for now folks, thanks for reading and see all of your sexy faces very soon!
Leon x