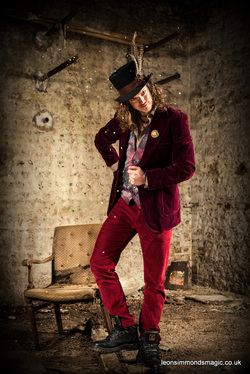 The time is now, it's the end of the year,
so laugh and dance, smile and cheer!
2013 was an absolutely incredible year for me. highlights included:
-Having the privilege of performing at some absolutely incredible events
-Creating brand new magic effects
-Becoming a resident magician (twice!)
-Creating a double-act-
ExTrAñO!
-Joining a magazine as a writer
-Building my website and starting this very blog
-Launching my side project- Whimsical Oddities
-Getting back up on stage to perform magic.
There were of course so many more to list but the main point is that not a single one of these would have been possible without
your
support...
---
So to everyone that has booked me for a gig, helped me practice, shared my work, liked my page, invited me to perform at a show, read my blog, recommended me to a friend, given me feedback, taken my photo and filmed me perform, come to watch one of my shows, helped promote, support and encourage me in any other way...

It is to you I say Thank you from the very bottom of my soul. It is you that helps me to keep pushing myself forward and progressing with my art which keeps me in the extremely lucky position of being able to support myself doing what I love.
It is not an easy path to choose and anyone will tell you there is a lot of ups and downs, self doubt and difficult situations along the way. You are the people that help give me the courage and confidence to rise above all of that and keep on going forward and for that I am eternally grateful.
---
So again- Ladies and gentlefolk, boys and girls, friends, family and my truly amazing girlfriend- THANKYOU- I love you all.

Now go and get very, very drunk and dance like idiots!

See you in 2014 for even bigger and better plans!
all the very best for 2014, may it bring you all good health, happiness and new horizons...

Leon
x