Why Leon Simmonds?


Roll up, roll up... Step forward and prepare your minds to be mystified by the Whimsical-Wizard himself, Leon Simmonds.

Sussex Magician Leon's magic is unique, in every sense of the word. From his personable approach to his art, to his outfits and adornments, Leon is far from 'just another magician' but something else entirely.

His creative repertoire of routines has seen him performing professionally for every type of audience possible, in numerous venues all across the country as well as internationally.

With hundreds of performances under his belt, his talent has attracted a whole number number of corporate magic clients such as American Express. Warner Bros and Lego .


---

Contact now:
leon@leonsimmondsmagic.co.uk
07791515743

---

Leon can cater for most budgets and it is his unique ability to adapt to your individual needs, that makes him the best choice to entertain your guests. So whether it's black tie, casual or something else entirely, Leon's whimsical wizardry can guarantee to make heads turn and jaws drop.

​Be brave, be bold, dare to be different! Contact Leon to see how he can help add his seductive sorcery to your event and leave your guests with something to talk about long after the music stops and the drink wears off...

Contact now on: 07791515743
leon@leonsimmondsmagic.co.uk


"His act was beautifully constructed- he was engaging, amusing and was performing really strong magic"
GILES CARTWRIGHT, COUNCIL MEMBER, SUSSEX MAGIC CIRCLE.
---
"I highly recommend Leon for both large parties as well as for smaller gatherings. He is extremely skilled and very entertaining. I would hire him again without any hesitation."
John Lias
VP American Express
Brighton.

---
Why Close Up Magic?

Close up magic simply has to be seen to be believed! There is nothing more incredible than seeing the impossible made possible in your hands, at your fingertips. It offers an escape from reality as well as being a great ice breaker, so Leon is always a popular choice as a wedding magician, party magician, corporate magician as well as many other events and occasions.
It always has such a great effect on people so it really is suitable for any occasion.
---
"After hunting for a magician who could provide us with close up magic in a casual, mingling environment we came across Leon who impressed us far more than all the other magicians we had spoken to for his flexibility and 'can do' attitude. On the day, he was fantastic. Everyone was entranced and I imagine Leon would be at home with any audience. Our corporate clients were extremely pleased and I wouldn't hesitate to recommend him for any occasion. We will certainly be calling him in the future when we next need a magician."
Tim Ponting, Director
Renegade PR, London.


---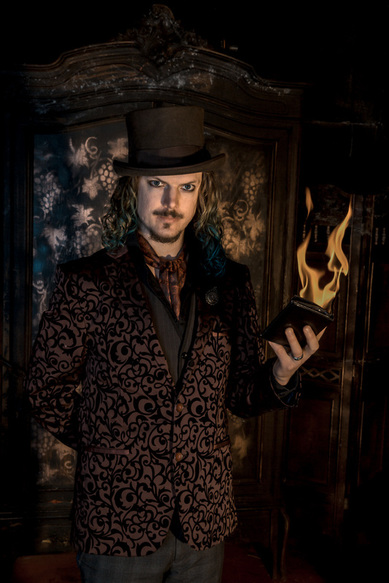 Leon is available for hire as a:
Wedding Magician
Party Magician
Trade Show Magician
Corporate Magician
Table magician
As well as the following types of events:
Cocktail Receptions
Product Launches
Christmas Parties
Bar/bat Mitzvahs
Gala Dinners
Private parties/ events.
After Dinner Entertainment
Cabaret shows
Burlesque shows.
Prices start from
£350, please contact with your event details for a personal quote.


Contact now on:
leon@leonsimmondsmagic.co.uk
07791515743
---
---
---