Brighton Magician Leon Simmonds regularly performs as a Magician in Sussex, London and the South. He is available to hire as a: Wedding Magician, Corporate magician, Party magician, Table Magician, Cabaret Magician and may more events and occasions, take a look at people are saying about his magic here:

Contact now for a personal quote:
leon@leonsimmondsmagic.co.uk
​07791515743

---
"Leon Simmonds was highly professional, suave and charming to boot, and he made our event a really magical experience for our guests. I would definitely recommend him as a walkabout magician and look forward to working with him again in the future."
Laura Wright | White Mink
December 2017

---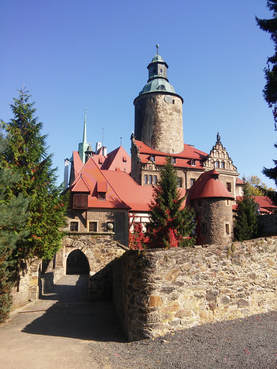 "Leon can make anyone feel like a child in a candy store! His show drags the audience right into the act, as he immerses you into his world of extraordinary magic!"
​Halfdan Keller Justesen- CoEE Volunteer
"I love Leon's style as artist and the way he mesmerises me, continuously making me feel like a curious child - Can't get enough
<3"
Carina Enggård- CoEE Volunteer
"At The CoEE, designers from many different fields came together to discuss the tools we use to create experiences. A huge shout out to the magicians Leon Simmonds and Marcus Lewis , who showed how they carefully construct the smallest details of language and gesture to impact perception. I learned a lot from both of them, which will make me a much better designer in my own field.
I think that's the magic of COEE. We learn from designers who, on the surface, seem to do wildly different work. And then, as we talk, we realise how similar our work really is."
​Bill Sherman-
COO
Thought Leadership Leverage
The College of Extraordinary Experiences
Czocha Castle, Poland, October 2017
---
---
"He fooled the children and then he fooled us big kids too!
Charming, charismatic, and most importantly, MAGIC!!"

Claire Michelle | Youtopia
Maui Waui Festival, August 2017
---
"Recently we hired Leon for the Community Festival event we ran. Leon immediately got stuck in and all ages, especially the children, were totally amazed by his magic. He even made time towards the end of the event to show myself and a few colleagues his skills which were spot on! If it's magic you're after, he's your man."

Zahira | Events Assistant | Corporate Events Team | University of Sussex | June 2017
---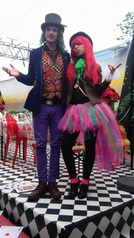 " Leon Simmonds is super talented! I had a mad hatter tea party last night and Leon made us all feel like we were in wonderland. I am still wondering how did he do it?? He is absolutely incredible and has you wanting more and more. I didn't want him to leave. He has a great personality, works brilliantly with the crowd and is just amazing!! Please if you are looking for magician Leon is your man!

Thank you for making my unbirthday so special!"
Beatrice Mulligan
Proud Camden
---
"We booked Leon for our wedding on 7th May 2016 and what an excellent decision that turned out to be. Leon kept our guests entertained for hours and the feedback was amazing. Leon is very professional and his magic is outstanding. We still have the card he got us to sign, we'll be keeping that forever!

​ We wouldn't hesitate to book him again."

Many thanks
Andy & Martine
Upwaltham Barns
Chichester


---
---
" Hello Leon. Thank you so much for coming to entertain our lovely international students, You received very high praise from both the students and the staff. We look forward to seeing you in action again soon! "

Cherry Fassih
Student Services Administrator
University of Brighton's International College
---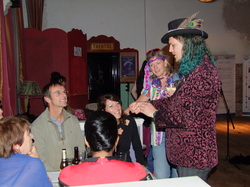 "With his engaging and professional manner Leon was the perfect magician to welcome guests to our 50th Anniversary party! He wowed guests of all ages with his showcase of table magic tricks that were truly incredible! We have had lots of positive feedback and feel that Leon's charisma and talent made it a very special evening."

Lauren Pridmore
Advocacy Assistant
Age UK
Brighton.


---
---
"Leon I just wanted to say a big thanks for your time and effort that you put into entertaining our guests on Saturday. You were spoken about all evening after you left, you are truly an amazing man.
Thank you again."

Sam and Sharon
Yew Lodge
East Grinstead .
---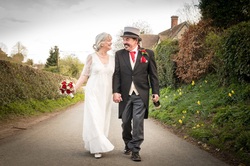 Just wanted to say a great big thank you to the most amazing close up magician anyone North of Brighton anyone has ever seen! You were amazing! Thanks so much for performing at our wedding
you made our day, and the day for all our guests, they were all in awe of you. Thanks again.

Charlie and Elaine.
​Shropshire.

---
---
Thank you so much for your hard work on Saturday night. Your tricks were amazing. The little girl who you did the rabbit trick for was so impressed – as I was with your "I lie, I steal, I cheat" trick. Many, many thanks.

Very best wishes
Jane Henshaw
---
Thanks again Leon for entertaining us on Saturday at the Hotel Pelirocco! There was lots of positive feedback the next day; it was a nice 'treat' to add to the evening.

​Lauren Delghton
Hotel Pelirocco
---
"I booked Leon as a wedding present for my uncles wedding and I can't sing his praises enough! His tricks were fantastic, mesmerising both young and old but the best part is Leon himself. He is funny, quick witted and a genuinely nice guy. Watching everyone's reactions was a mixture of amazement and disbelief! I wouldn't hesitate recommending him to friends and family and will definitely be booking him again! Thanks Leon, you are going to be a superstar!"

​Stuart Danton
Worthing
---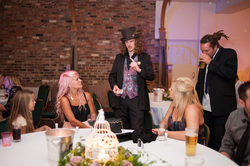 Hi Leon. I just wanted to say thank you so much for performing at our wedding on Friday 27th June. Everyone mentioned to me how amazing they thought your tricks were, and people are still talking about it almost 3 weeks on :) One of the boys at the wedding was so impressed with your magic, he's now gotten into himself! We'd love to see you performing again in the future, please do keep in touch and let us know of any events you're planning.

Hope all is well, and thanks again!
Janine and Craig
Battle, Hastings
---
---
---
"We booked Leon for our wedding, you never know what you're going to get but he came with very high recommendations so we decided to employ him to perform. We should never have been worried as he was an absolute star and assisted hugely in making our day so special for us, our family and friends, he did not fail to amaze every type of age group, even my 80 year old mother was blown away!"

Andy & Nina Blackman
Kent
---
"Our day went without a hitch and having you giving the day a little bit extra was brilliant for us. Everyone said how amazed they were and were asking if we knew how you did it as they couldn't figure it out. So thank you very much for helping our day be a memorable one."


Cheryl and Wayne Gullifer
Eastbourne
---
---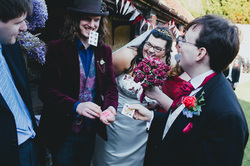 "You really did an amazing job, it kept our guests beautifully entertained whilst we had the formal photographs taken, and lots of friends now want you for their events. I think you can see how amazed I am by some of your tricks in the photographs!"


Katie and Jack
Bexhill-on-sea
---
---
"I hired Leon to entertain at a works Christmas party I planned for a local company in 2013. The theme was Edwardian and Leon arrived on time very much looking the part. We had a great night! Leon amazed us with his magic and card tricks between courses and really kept the party going. His naturally easy-going manner and flexibility were very useful when courses ran over and the guests became festively gregarious!
I have no hesitation to recommending him to others and have in fact booked him already again. This time for a 40th birthday in March.
Book Leon and have a great night!"

​Maxine Michaelides
Duke & Lolly Events and Decor


---
I was very impressed with Leon, along with my party guests. I had never hired a magician for an adult party, so was a little unsure what to expect and how it would work. Leon was very adaptable we had adults, kids and teenagers so mixture of ages and it worked very well- all were entertained and impressed. Leon mingled around the party, so people were able to chat and participate in his act.
Alison Ponsonby Way
NYE 2013
---
"Leon Simmonds performs as one of our regular walkabout pop up acts during our club nights at Funfair Club. He is a talented, charismatic close up magician who is always certain to be interactive and entertaining. He has an individual style which our customers love, and his wide variety of tricks always leave them scratching their heads! Leon is a pleasure to work with, and always receives fantastic feedback from all of our customers."
Abby-Leigh CaulfieldEvents promotion
Funfair Club
www.funfairclub.com
---
"Once again thank you for a brilliant evening, I couldn't have chosen a better magician. Everyone loved what you did and Georgina is still mesmerised by the rabbits!! We are trying to think of another celebration so that we can ask you again!!.. All the best"
Heather Robinson
Private 18th Party, Brighton
October 2013
---
"I hired Leon for our RAF summer ball and he was absolutely outstanding. His close up magic needs to be seen to be believed and all the guests were blown away by it.
His friendly funny nature only adds to what is already an exquisite performance.
In all the years I've attended the Ball his is without doubt head and shoulders above any magician we've had before and I will be him booking again.
I cannot recommend him highly enough."
Richard Lancaster
R.A.F Summer Ball
Kent July 2013
---
"Wow! Leon really blew everyone away at our wedding with his
incredible magic. The adults and children loved every minute. To top
it all off Leon is a lovely guy too. Thanks for helping make our big day
extra special!"
Mr & Mrs Simon.
Wedding, Lewes, May 2013

---
"Hi Leon- The thanks are very much due from me.
You did exactly what I hoped by bringing an extra dimension to the evening and it worked even better than I actually thought it would.
Everyone I spoke to really enjoyed the things you did and also the way you made them feel such a part of it.
I am sure we will meet up again, Kind regards"
Garry Joiner
Private party.
May 2013

---
"We first booked Leon for our Charity Christmas Lunch in 2011 and he was so popular we decided to book him again for our Christmas event this year. Leon is a fantastic magician with wonderful charm and is very popular with our diners at the Christmas lunch. Leon's magic involves everyone and he keeps people laughing and smiling as well. He is fantastic doing one to one magic or working with a bigger crowd. His rates for top class entertainment are very reasonable and we would advise other organisations to book him at once for their future events."
Joanna Hedges
Deputy Manager
The Sussex MS Treatment Centre

---
"Leon is a reliable, personable performer who we are always delighted to rebook. He never fails to impress our clients and their guests."
Christina Wood
Entertainment Associate
H2oh! Entertainment

---
"We asked Leon to manage the walk about entertainment for this three course dinner for 400 guests at the Grand. He sourced a colleague & between them, they managed to work all 40 tables, entertaining guests with amusing & polished feats of close up magic. Guests ranged from young football professionals to local businessmen & Leon's ability to adapt to this varied audience was remarkable & left everyone clamouring for more! I would have no hesitation in recommending Leon to any agencies or clients, his skills & professionalism are outstanding."
Tim Benson Event Director,
Pebble Productions Ltd.

---
"Leon worked with us to keep 1000 people entertained at leading Brighton venue, The KOMEDIA... he's got what it takes - the old standards, his own twists and the creativity and charisma to use close-up magic to its best effect on any day. We have many events lined up and will certainly be using Leon again"
Phil Lakka, Director
Playgroup. Brighton.

---
"On arrival guests were treated to Leon's 'Mix and mingle' style of magic- using cards, coins, rubber bands and even FIRE! It really grabbed our guest's attention and was the perfect type of magic for our audience. Leon had a string of tricks up his sleeve and left our guests gasping for more."
Georgina Carley | Events Co-ordinator
Bupa International. Brighton.

---
"Leon performed at our 2011 Graduation Ball drinks reception entertaining our guests with his incredible magic & performance. Leon was a joy to work with and we received nothing but great feedback from all who he performed to. Leon was top class and we hope to work with him again."
University of Sussex Student's Union (USSU)

---
"Sensational Magic suitable for any occasion! Leon MUST be seen to get the full experience of his wonderful act."
GREG @ Molotov Cocktail Lounge Brighton.
"His act was beautifully constructed- he was engaging, amusing and was performing really strong magic"
GILES CARTWRIGHT, COUNCIL MEMBER, SUSSEX MAGIC CIRCLE.

---
"Leon was fun and professional he provides relaxed entertainment for all ages. We would happily book him again should occasion occur and would recommend him to others."
Shak, Private Birthday Party @ Al Mirage Restaurant

---
"Thanks from all the staff at Wiston House for the impressive display of close up magic at our annual Staff Summer Party. You were the talk of the evening! You kept everybody captivated by the tricks you performed – to the extent that I believe one of our staff followed you round, he was so mesmerized! Thank you again – if we get the opportunity, we shall certainly ask you back".
MANDY BATES, HOUSE SUPPORT MANAGER, WISTON HOUSE. West Sussex.

---